This is the answer key for the incredibly popular
Free Screwtape Study Guide from ThatDanKent.com
.
For $7 the Study Guide Includes:
– Answers to all Study Guide Questions
– Proposed 6 Week Course Outline
– 5 Teaching Tips
– 2 Teaching Activities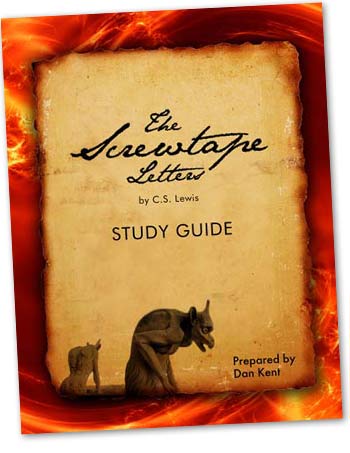 In "The Screwtape Letters" C.S. Lewis creatively exposes his views on what causes people to spiritually succeed or spiritually fail. His insights will surprise you. Even though, technically, this book is about demons… in reality it is about US!
This study guide will examine Lewis' complicated views on Christian success and failure, specifically in the areas of character formation, belief formation, and habit formation. You will see quickly why The Screwtape Letters is a spiritual growth classic.
Please direct all questions or comments to:
Daniel Kent
Adjunct professor of Theology at Bethel University


@thatdankent |

thatdankent.com

Tweet This
Praise for the study guide
"I used your study guide to lead the BEST series EVER for my Bible Study. Thank You!" – Janice
"My class really enjoyed your study guide. I do not think they would have enjoyed the book as much without it." – Trevor W.
"There is so much more in Lewis' book. The Study Guide really helped us get the most out of our reading." – Walter
"A great study guide. Do you have more?" – Sara